Stay with Digital Currency Signal to review the article below
The KnownOrigin is one of the best NFT buying and selling sites focused on supporting artists' artwork. This means that many other NFT tokens such as Metaverse
game items do not play a significant role in this market, but artists with experience designing digital works can sell their work. on this market. In the rest of this article, we will discuss the features of the platform and how to buy and sell NFTs on the platform so you can sell your work on it or buy other works. select.
Getting to know the KnownOrigin platform
One of the first established marketplaces to buy and sell NFTs was the KnownOrigin platform. This marketplace is built on the Ethereum blockchain and allows users to sell digital art. In fact, this market is more focused on selling artwork and game items and less on music sales.
To sell NFT tokens on this market, artists must first increase their works on NFT and list all the people who helped them make those works. For the price of the token, it is better to talk with colleagues and other partners and determine the type of price, such as auction and other tokens.
As we mentioned above, the KnownOrigin platform is focused on supporting artists and their work. Therefore, to enter this market, craftsmen must have high knowledge and experience. For example, one of the conditions of access to this market is to submit an artistic CV, which includes a portfolio and a summary of artistic activities, when registering. After the approval of any CV, artists have the opportunity to enter this market and sell their artwork.
KnownOrigin platform features for buyers and artists
This marketplace serves artists and supports their work. Therefore, it should provide facilities like equipment to the artists so that they can exhibit their work. Some of the features of the KnownOrigin platform include:
Types of auctions
Methods of buying NFT tokens on this market include auctions, buy now, 24-hour reserve auctions and all kinds of stage sale promotions. You can buy now through the Buy It Now method, but a 24-hour backup auction is a type of auction where the buying time is set to 24 hours.
In this method, the seller sets the desired price and has 24 hours to offer a price that matches the desired price. Of course, higher prices can be offered in this type of auction, when the price is locked and a competitive bidding environment is created. In these cases, the seller may charge more for their services.
In an unsustainable sale, buyers who buy early are included in the bonus. As each copy of a set of NFTs is sold, they increase the price of the rest of the set by a certain amount.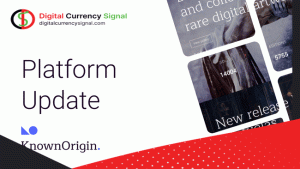 An example is related to a collection of tokens. In this market, NFTs multiply according to demand. This means that all tokens on this market are not created in the same version. The benefit of this capability on the KnownOrigin platform is cost reduction as artists can easily burn their unsold NFTs and control the price of other tokens.
Versions of the KnownOrigin platform
An example is related to a set of tokens. In this market, NFTs multiply based on demand. This means that not all tokens on this market are created in the same version. The benefit of this capability on the KnovnOrigin platform is cost reduction as artists can easily burn their unsold NFTs and control the value of other tokens.
Open content
One of the new features of the KnownOrigin platform is unblocked content. This possibility allows the buyer of the work to have full access to the contents of the token after purchase. Since this material can contain anything, this feature can have an impact on increasing the value of NFTs.
Purchase of KnownOrigin and NFT platform
To buy a work of art on this market, you must first convert your property to Ethereum and store it in a digital currency wallet. At this point, you need to connect your crypto wallet to the KnowmOrigin marketplace. Now you are ready to buy images from this market and you need to go through the following steps. View all available collections and select the work you wish to purchase.
From now on you can choose the recommended price or offer a new price to buy this job. If you also want to participate in the auction, you must make sure that you win the auction. All arrangements have been made to buy handicrafts in this market. Just click on the buy option and pay the fees in the Ethereum Blockchain.
How to Sell NFT on KnownOrigin Marketplace
As an artist, if you plan to sell your work on the KnownOrigin platform, you will need to create an account first. Enter all the required information to create an account and upload your work. At this stage, you should wait for your work to be analyzed by a third party in this marketplace. Once approved, you as an artist or creator of artwork can sell your artwork by following the steps below.
To get started, multiply and host your NFTs through this marketplace and create a unique token for your work. In this way, you can sell through smart contracts on the Ethereum blockchain.
Write a description or description of your work.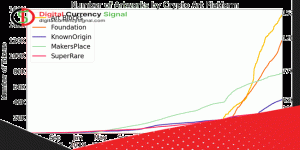 Specify the price that is set to sell this item. If there is a quote you want, you can leave it open and get a suggested quote.
Now you have to wait for buyers to buy your artwork.
Important collections on the KnownOrigin platform
Here are some examples of KnownOrigin's top collection of NFTs you can check out: Each of these works is artistically, fundamentally, etc. important.
A collection of NFT histories
This collection features the work of some of the leading artists in the NFT ecosystem, brought together in a way that celebrates them. The collection was exhibited at the historic NFT exhibition in Barcelona from October 28-30, 2022.
Adobe MAX package
This series is about Adobe MAX sponsored by KnownOrigin Marketplace. This market has even designed a collection named after itself to show this collaboration and financial support.
Meta Borealis Collection
This collection is also designed by KnownOrigin. In fact, the reason for designing and preparing this collection is to analyze NFT creators and artists who went through very difficult times and continued to create their works.
Cryptocurrencies are supported on well-known native markets
This market only supports Ethereum digital currency. This means you cannot use other digital currencies like Bitcoin or fiat currencies like Tether to buy NFTs. This means converting your shares to Ethereum. For this, you can use a reputable exchange to convert ownership to Ethereum. Finally, deposit the purchased Ethereum into your cryptocurrency wallet to complete your NFT purchase on the KnownOrigin platform.