After the creation of Bitcoin as the first and most famous digital currency in 2009, thousands of other cryptocurrencies were born with their own goals and have a place in the market according to their characteristics. In the cryptocurrency market, we have a concept called stablecoin, if you have questions about what stablecoin is and what types it has, and to get acquainted with the most popular and practical stablecoins on the market, we recommend that you read this article in full.
What is a stablecoin?
Stablecoins, also known as stablecoins, are cryptocurrencies backed by popular currencies like dollars, euros, etc. and their value is equal to the value of the fiat currency backed by them. Fiat currencies have their own storage and transfer rules and systems. For example, you should keep currencies like dollars and euros in physical accounts or leave them in the bank. As for their transfers, as you know, they have their limits, and banks and governments control all transactions. On the other hand, stablecoins, although they have the same value as fiat currencies, do not have restrictions on the holding and exchange of fiat currencies, and therefore have attracted the attention of many users and international traders.
When a stablecoin is issued, a unit of fiat currency is deposited on the blockchain as backing for each coin or token. Of course, we also have stablecoins that are gold-plated, and each token is worth a certain amount of gold. Stables are mostly used to buy other cryptocurrencies from cryptocurrency exchanges. Since stablecoin has a fixed value and does not change, it can be a good measure to evaluate other cryptocurrencies and buy them on exchanges. The advantage of stablecoins is that they avoid the natural fluctuations of the cryptocurrency market because they have a fixed price. Therefore, when investors in this market want to protect their income, they buy the currency that they are fleeing.
What are the uses of stablecoins?
Like other digital assets, the primary use of Stablecoins is as a store of value and medium of exchange.  These currencies temporarily delay price changes so that traders can enter a safe position. Stable tokens can also be used to develop the world of decentralized finance (DeFi), such as yield Farming, lending and borrowing, and providing liquidity.
These are the two main reasons why people choose stablecoins over other cryptocurrencies like Bitcoin. Investors can rest assured that they can sell their tokens for $1.  Coin prices react to emotions; That is, if traders and investors believe that each of their stablecoins is worth $1, the price will react to this and stay around $1.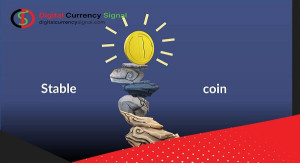 Stablecoins are a haven for frustrated investors. Many exchanges, such as Binance, allow traders to buy fiat currency but not trade it; This is a bit of a challenge for traders who hold fiat currency. This is where fiat currencies come in, and since they are cryptocurrencies, they are available on almost every exchange. In the following, we will introduce the types of stablecoins and their different supports.
Types of stablecoins
There are different ways of categorizing stablecoins; However, the most important and widely used method is related to the support and operation of this type of encryption. In this section, let's talk about the types of stablecoins based on how they work. In general, we can divide stablecoins into the following 5 types:
1.Stablecoin backed by the national currency
This type of stablecoins includes those that are created with the backing of fiat currency and have the same value as their respective fiat units. In a system created for this type of currency, for every token unit offered to the market, one unit of fiat currency must be added to the stablecoin treasury. Stablecoins that were created with the backing of fiat currencies such as the US dollar, euro, and yen are among the simplest and first currencies in the cryptocurrency market. These types of stablecoins have a value ratio of exactly one to one. Note that if the base value and base currency of a stablecoin are held constant, the intrinsic value of the stablecoin we are looking at will also be maintained.
2.Stablecoins supported by assets
The next type of stablecoins available is asset-backed. These types of stablecoins are very similar to the previous group and the only difference is in the kind of assets they support. Cryptocurrencies in this category are backed by valuable physical assets such as gold. Additionally, some stablecoins in this category are supported by other physical and tangible assets, such as real estate. Typically, these types of stablecoins are associated with a certain amount of the desired product. Note that Maad assets must be stored in a specific location so that international auditors can permanently access them and ensure the authenticity of the relationship between the cryptocurrency and the assets that support it.
3.Stablecoin is a supported cryptocurrency
The third type of stablecoins we want to explore, stablecoins, includes stablecoins backed by digital currencies and loans with additional collateral. Thus, the value of these assets remains constant and does not change. Essentially, stablecoins are digital currency backed by a crypto wallet. As cryptocurrencies fluctuate wildly, these stablecoins offer loans with excess collateral. Borrowers in this system must lock their tokens into smart contracts. Also, if the collateral value drops too much, the pledged tokens will be liquidated to prevent further losses.
4.Algorithmic stablecoin
As the name of this type of stablecoin suggests, algorithms and smart contracts are used in these cryptocurrencies to secure and stabilize the value of the tokens. In a system designed for these stablecoins, the price level and asset value are kept constant through a policy of increasing or decreasing supply and market forces. The most notable thing about this type of stable cryptocurrency, which makes them different from the previous groups, is the lack of support for them. These types of stablecoins have very complex management systems and their value is determined and controlled by unique algorithms and smart contracts.
5.Wrapped Token
Rapid Tokens are cryptocurrencies backed by other digital currencies. Some experts and activists in the field of cryptocurrency do not consider these types of tokens as stablecoins.
But due to the fixed value of these cryptocurrencies which is provided by their backing, in some sources Wrapped Tokens are referred to as Stable Coin. The term "wrapped" means a wrapper chosen based on how these tokens work. These tokens are used as cover for other tokens or coins. To create Rapid Tokens, a few units of digital currency are deposited at a special address, and in return, Rapid Tokens are automatically created on another network.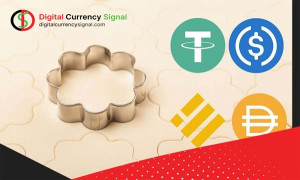 The most popular stablecoin in the crypto market
This list is based on popularity and acceptance in the crypto market. Note that terms and popularity may change as of the date of this answer.
Tether (USDT): It is the most popular and widely used stablecoin and can hold its base value well against the US dollar.
USDC: Like Tether, it is pegged to the US dollar and is one of the most popular stablecoins, especially in America.
Binance USD (BUSD): This stablecoin is also pegged to the US dollar and is issued by the trusted exchange Binance, one of the largest crypto exchanges.
DAI stable coin (DAI): It is one of the most popular stablecoins associated with other assets supported by the MakerDAO organization.
TrueUSD (TUSD): This stablecoin is also one of the stablecoins pegged to the US dollar, the value of which corresponds to this base currency.
✅Conclusion
In this article, we considered what a stablecoin is and what types it has. As the cryptocurrency market grows in number of users, the use of stablecoins increases. However, currently, there are many stablecoins in the market, some of which do not have much credibility. Be sure to do your due diligence before converting your assets to a stablecoin. If you do not have the opportunity to do so, it is better to use popular stablecoins like Tether (USDT). Always remember that stablecoins are a way to avoid losses in bear markets.